Fat-Burning Paleo Buttermilk Pancakes (Dairy Free, Gluten Free)
Weekends are the perfect time to enjoy an indulgent breakfast. But "indulgent" doesn't have to mean unhealthy!
In fact, you can enjoy delicious breakfast foods – like these Paleo buttermilk pancakes – that will fill you up and keep your blood sugar stable and your metabolism cranking on all gears.
But let me stress something important…
The pancakes I'm talking about are VERY different than the buttermilk pancakes that come in a box (like Aunt Jemima) or those served at IHOP and other breakfast restaurants. And they're far better than "whole wheat" or even "organic" pancake mixes you'll find at the store.
In fact, whole wheat raises blood sugar more than nearly all other foods – including table sugar and candy bars!
And that's really bad news for your health. High blood sugar levels promote the storage of belly fat… it triggers inflammation… and increases the risk of fatty liver, diabetes, heart disease and many other chronic illnesses.
But the good news is that you don't need a gram of grain to make delicious breakfast foods that your whole family will love… and that you will love feeding your family.
Buttermilk Pancakes… Reinvented
You're about to discover a healthy twist on traditional pancakes that is:
High in protein (12 g per serving!)
Rich in healthy fats
Low glycemic and low in carbs and sugars
Gluten Free
Grain free
Dairy Free
Soy Free
Corn Free
They're also an excellent source fiber, selenium, riboflavin and manganese and a good source of iron, vitamin B12 and phosphorous.
So go ahead and enjoy a thick stack of these nutrient-rich breakfast bites. Your taste buds and your health will thank you for it!
Original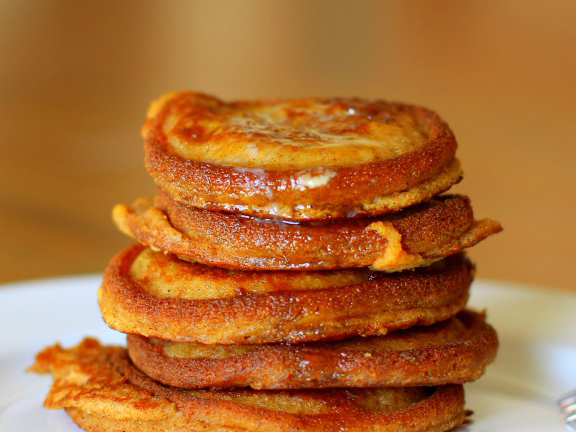 Ingredients
1/2 cup coconut flour
1 tsp. baking soda
2 tsp. cinnamon
1/2 cup Coconut Buttermilk
6 pastured eggs
1 Tbsp. Coconut Secret Coconut Nectar
8-10 drops SweetLeaf Stevia Clear Liquid Stevia (to taste)
Instructions
Blend coconut buttermilk, eggs and coconut nectar together in a blender or mixer until well- combined.
Add the coconut flour, baking soda and cinnamon. Blend until smooth.
Let the batter rest for five minutes.
Heat a safe, non-stick griddle (preferably enameled cast-iron) to medium heat. Pour batter into pan to make pancakes (silver dollar-sized work best). Cook about 1 minute per side; flip. Continue making batches.
Serve with a pat of Kerrygold Butter and a simple sauce made from organic frozen blueberries or my low-glycemic Antioxidant Super-Syrup