Keto Paleo Dinner Rolls
If you've been avoiding grains and watching your carbs, there is a good chance that good old-fashioned "dinner rolls" are no longer served at your table. But if you're like me, then you probably miss these traditional comfort foods for sopping up sauce or enjoying with your favorite bowl of soup or chili.
But what if you could still enjoy crusty, chewy Paleo dinner rolls that are grain-free and very low in carbohydrates?
Well, go and preheat your oven, because now you can…
These soft-on-the-inside, crusty-on-the-outside Paleo dinner rolls are made with coconut flour, eggs and zucchini. And you can whip them up in a snap.
They're also perfect if you're following a ketogenic diet and want to optimize your body's use of insulin, improve your physique, reduce your risk for disease and maybe even live a little longer.
Ketogenic Paleo Dinner Rolls (An Oxymoron?)
While many studies show that a ketogenic diet has a plethora of benefits (from reversing Alzheimer's to preventing seizures), Dr. Peter Attia, MD of The Eating Academy has proven just how powerful this way of eating can be.
Over a ten year period, Dr. Attia used himself as a "lab rat." He measured the effects of a ketogenic diet on key markers of disease and aging, including blood sugar, body fat, waist circumference, blood pressure, triglycerides, insulin sensitivity and more.
The results of his experiment showed significant improvements in each of these key measurements, including a dramatic loss in visceral fat. This is the unsightly belly fat that surrounds your organs and is associated with numerous forms of chronic disease including diabetes, heart disease, metabolic syndrome and even cancer.
Take a look at Dr. Attia's before and after results:
Can You Eat Bread on a Ketogenic Paleo Diet?
Getting results like this would be impossible on the standard American diet.
That's because a ketogenic diet requires most of your calories (50-70%) to come from healthy fats with moderate levels of protein… and very low levels of carbohydrates. This is the antithesis of the USDA food pyramid.
The good news is that it doesn't mean that you have to bid adieu to your favorite comfort foods. In fact, you can makeover your old favorites with health-promoting, intelligent ingredients. And in a short period of time, you can shift your body's metabolism from a "sugar burner"… to a "fat burner."
And yes, there are even "health makeovers" for carbohydrate-rich foods like bread.
Using high-fiber coconut flour, protein-rich eggs and our secret "bread" ingredient (psyllium husk) we've created a recipe for Paleo dinner rolls that have less than 60 calories, 2 net carbs and 1 gram of protein per serving. And you can easily increase the healthy fats by dipping these rolls in avocado oil or slathering with some grass-fed butter.
There's no kneading required and no yeast. Simply measure, mix and bake for delicious body-and-brain friendly Paleo dinner rolls!
Here's the recipe:
Original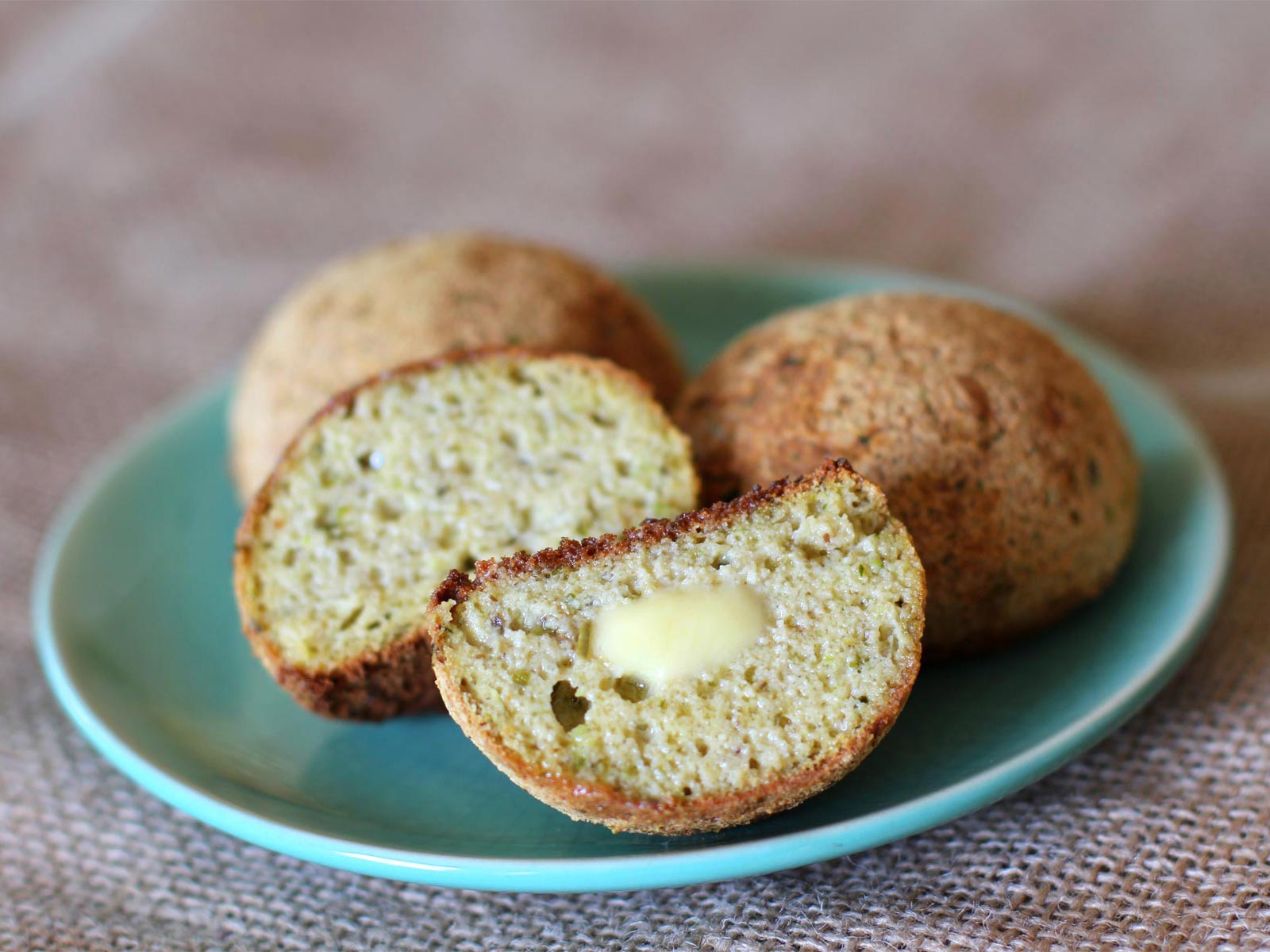 Ingredients
2 Tbsp. Starwest Botanicals Organic Psyllium Husk Powder
4 large pastured eggs
8 Tbsp. Nutiva Organic Coconut Flour (70 g)
1 medium zucchini (160 g), finely grated
2 Tbsp. avocado oil
2 Tbsp. organic apple cider vinegar
1/4 cup filtered water
1 Tbsp. dried basil
3 tsp. non-aluminum baking powder
1/2 tsp. sea salt
Instructions
Preheat your oven to 350 F. Grease a sheet pan.
In a large bowl, combine coconut flour, baking powder, herbs, sea salt and psyllium husk powder.
In a medium bowl, combine the eggs, apple cider vinegar, avocado oil, water and shredded zucchini.
Add dry ingredients to wet and mix with an electric mixer on medium speed to fully combine.
Grease hands and scoop dough out by golfball-sized mounds.
Roll gently and place on baking sheet. (I left mine round, but you can flatten a bit or make into sub rolls if you'd like)
Brush with avocado oil and transfer to oven. Bake to golden brown and hollow when tapped – around 45 minutes depending on size.
Nutrition & Macronutrient Ratio
Nutrition Information Per Serving
74 calories, 5 g fat, 2 g saturated fat, 2 g monounsaturated fat, 1 g polyunsaturated fat, 71 mg cholesterol, 5 g carbohydrate, 2 g NET carbs, 0 g sugar alcohols, 1 g sugar, 3 g fiber, 3 g protein, 197 mg potassium, 124 mg phosphorous, 133 mg sodium, 6 mg magnesium
67 % FAT | 19 % PROTEIN | 14% CARBOHYDRATE
While the Paleo diet has major advantages over the Standard American Diet, many people who "go Paleo" are still consuming high levels of carbs (like excess fruit or honey-sweetened treats) that can cause blood sugar imbalances, sluggish fat burning and insulin resistance over time.
For dozens more low-carb, grain-free bread recipes, see Healing Gourmet's newest recipe book, Keto Breads… and learn why the bread you're eating (including gluten free) could be ruining your health.
Have you tried a ketogenic diet? What health improvements did you enjoy?