Fall-Off-The-Bone Pressure Cooker Chicken (in 30 Minutes!)
When you hear "pressure cooker chicken" you may think of your mother's (or grandmother's) cooking… and possibly even stories of exploding pots yielding ceiling stains (or worse, burns).
But cooking with today's pressure cookers is much different. While they still yield super-fast, ultra-moist results, the safety issues that sometimes occurred with early-generation pressure cookers have been resolved. Used properly, the pressure cookers of today are no more dangerous than any other tool or appliance in your kitchen.
The link above leads to Amazon – where they are having their Prime Day Sale. The pressure cooker I use – the incomparable Instant Pot (on sale at Amazon). Check it out if you're interested… and please keep reading for more info!
Pressure Cooker Chicken: Fork-Tender Chicken in Just 30 Minutes!
Check out this short video to see just how easy it is to make…
We believe that a pressure cooker is an indispensable tool for healthy cooking in a hurry. And the possibilities for what you can do with one are endless…
Looking for Quick & Delicious Keto Recipes to Burn Fat & Lose Weight?
Click here to claim your FREE Keto Dinners Cookbook!
You can make the even toughest cuts of grass-fed beef or bison fork-tender in less than an hour. You can rapidly create deep, rich flavors in Bolognese and chili that could typically only be achieved after hours of long, slow simmering. You can turn out the juiciest whole chicken – infused with the flavors of garlic, herbs and spices – in just 30 minutes.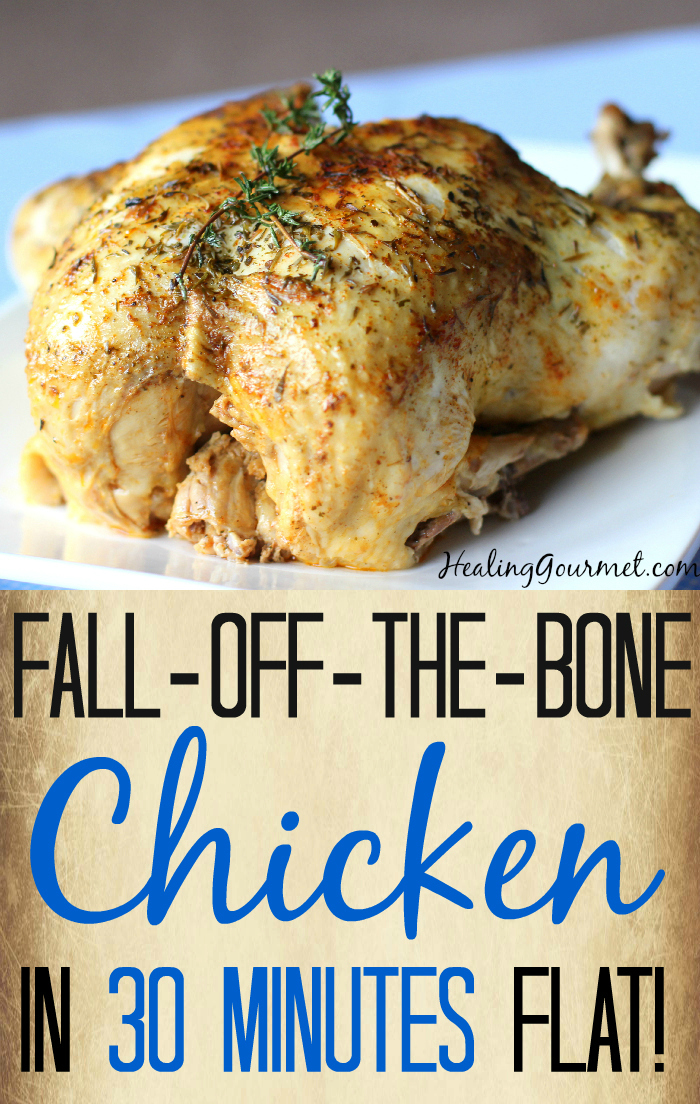 The Search for the Juiciest Chicken (And a Superfood Bonus!)
Of all the meats that I enjoy, a whole pastured chicken – simply prepared – is my favorite. But it was always quite a process to infuse a chicken with flavor and get it fully cooked, while also keeping meat moist. I brined. I marinated. I "dry aged" in my fridge overnight. I've buttered the breasts and stuck garlic in all the nooks and crannies.
But inevitably, my chicken was rarely as moist or flavorful as what I'd enjoy in a high-end restaurant.
That is, until now…
I recently began using the third-generation Instant Pot Pressure Cooker and I can truly say that this is one of the best kitchen investments I've ever made. It is no exaggeration to say that a pressure cooker can change your life in the kitchen. It can certainly save you time that that you can spend doing other things!
Looking for Quick & Delicious Keto Recipes to Burn Fat & Lose Weight?
Click here to claim your FREE Keto Dinners Cookbook!
The pressure cooker chicken recipe below could not be simpler or more flavorful. There's no advance preparation, no brining or basting. And in the short time it cooks, you'll have just enough time to make your sides. A nice dark leafy green organic salad and maybe some mashed sweet potatoes or cauliflower mashers round out the meal perfectly.
Another benefit of using a pressure cooker is the amount (and quality) of gelatin it yields. From this recipe, I typically get up to 4 cups of nutrient-rich, gut-healing gelatin that makes the perfect base for just about any soup, or sipping warm with a little lemon.
I hope you love this recipe as much as I do!
Original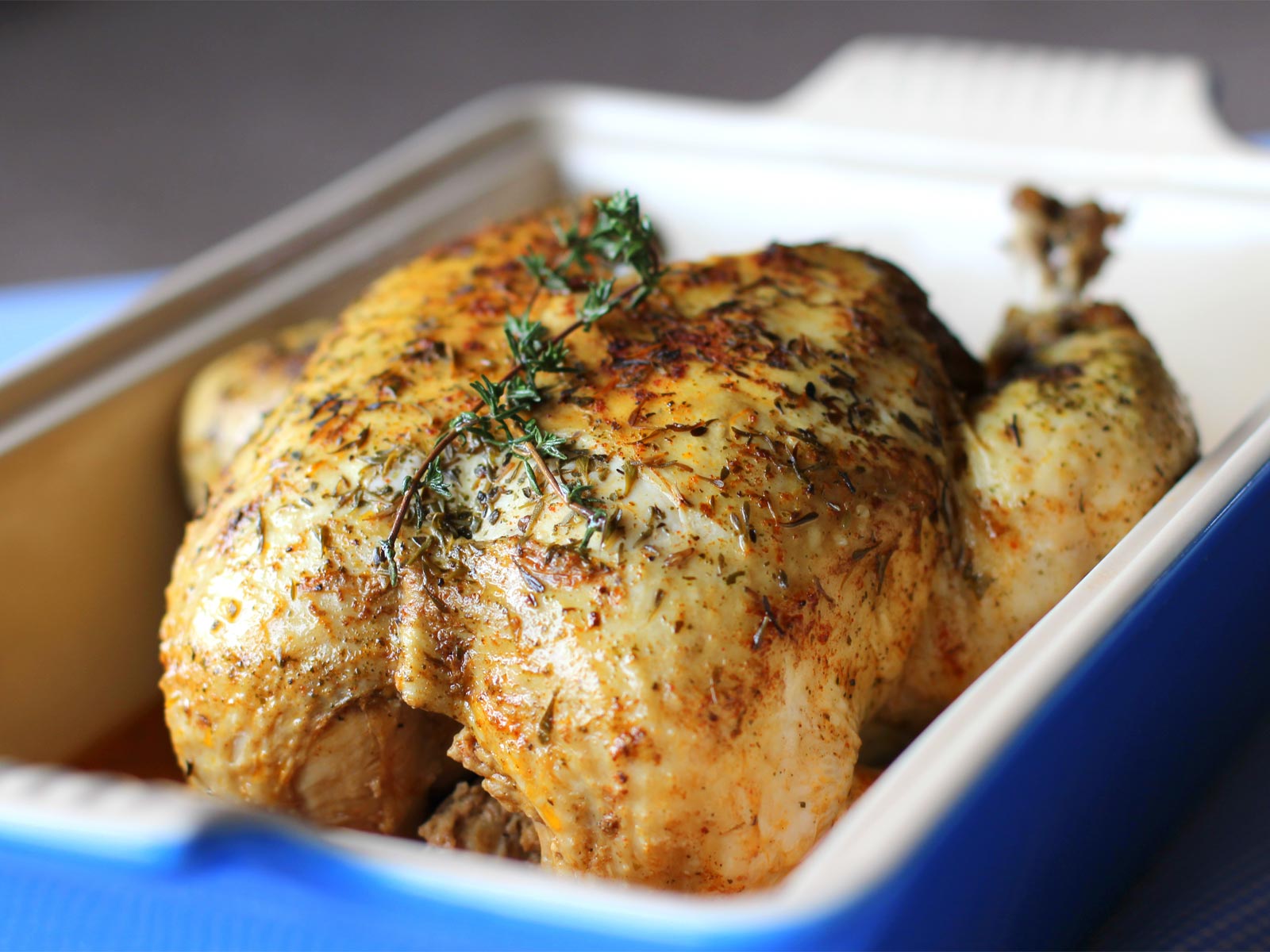 Ingredients
1 whole – 4lb. organic chicken
1 Tbsp. [b]Organic Virgin Coconut Oil Get a 15 oz. jar FREE from Thrive Market now!
1 tsp. paprika
1 1/2 cups Pacific Organic Bone Broth (Chicken)
1 tsp. dried thyme
1/4 tsp. freshly ground black pepper
2 Tbsp. lemon juice
1/2 tsp. sea salt
6 cloves garlic, peeled
Instructions
In a small bowl, combine paprika, thyme, salt, and pepper. Rub seasoning over outside of bird.
Heat oil in the pressure cooker to shimmering. Add chicken, breast side down and cook 6-7 minutes.
Flip the chicken and add broth, lemon juice and garlic cloves.
Lock pressure cooker lid and set for 25 minutes on high.
Let the pressure cooker release naturally.
Remove from pressure cooker and let stand for 5 minutes before carving.